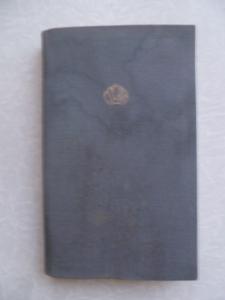 Bernard Mandeville Die Bienenfabel oder Private Laster als gesellschaftliche Vorteile. 1988 binding type: hardcover.
Category: Book, journal, almanac
Rubric: The philosophy of the New Age (XVIII-XIX centuries).;
Place of origin of goods: Азия
Description: Mandeville, Bernhard: Die Bienenfabel. Oder Private Laster als gesellschaftliche Vorteile. Mit einer Abhandlung über Barmherzigkeit und Armenschulen und einer Untersuchung über die Natur der Gesellschaft sowie einer Rechfertigung des Buches gegen die Verleumdungen, die in Anklage vor dem Schwurgericht von Middlesex und einem Schmähbrief an Lord C. enthalten sind. Mit 16 Abbildungen. Leipzig und Weimar. Gustav Kiepenheuer 1988. 8vo. 438 S.
Status: Следы воды на обложке,несколько пятен(фото)
(Seller: sevost)
Price 40,00 грн.
ORDER FORM
Marked with * is required