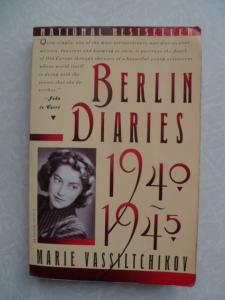 Marie Vassiltchikov Berlin Diaries, 1940-1945. 1988 binding type: hardcover.
Category: Book, journal, almanac
Rubric: Biographies, memoirs, pictures: War, Politics, Diplomacy;
Place of origin of goods: Азия
Description: The secret diaries of a twenty-three-year-old White Russian princess who worked in the German Foreign Office from 1940 to 1944 and then as a nurse, these pages give us a unique picture of wartime life in that sector of German society from which the 20th of July Plot -- the conspiracy to kill Hitler -- was born.На 2 листах следы карандаша.
(Seller: sevost)
Price 50,00 грн.
ORDER FORM
Marked with * is required