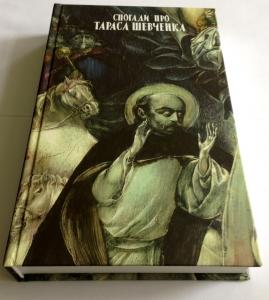 В.С. Бородіна, М.М. Павлюк, О.В. Бороня - упорядники Спогади про Тараса Шевченка Київ: Дніпро, Київ. 2010 608s., binding type: hardcover.
Category: Book, journal, almanac
Rubric: Ukrainistics; Literary criticism; Biographies, memoirs, images: Literature;
Place of origin of goods: Украина
Language: Ukrainian
Description: Київ, Дніпро, 2010,- 608 с. Книга нова.Оплата: на банківську картку. Пересилання: Нова пошта , Укрпошта . Замовити можна тут www.eknyhar.com.ua . До збірника спогадів про Тараса Шевченка ввійшли мемуари його сучасників. Матеріали збірника, в яких розповідається про окремі епізоди життя геніального сина українського народу, створюють цілісну картину життєвого і творчого шляху основоположника нової української літератури. Укладання і примітки В.С. Бородіна, М.М. Павлюка, О.В. Бороні. Передмова В.Л. Смілянської.
Status: нова
(Seller: eknyhar)
Price 145,00 грн.
ORDER FORM
Marked with * is required