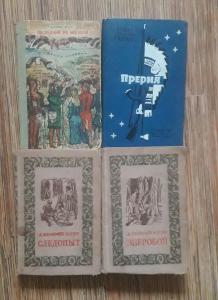 Фенимор Купер Зверобой.Следопыт. Последний из Могикан, Прерия Пенза: Пензенское книжное. 1954 binding type: hardcover.
Category: Book, journal, almanac
Rubric: Library of World Literature (BVL Series); Library Adventure and Science Fiction (book series); Prose of the XIX century in the Russian translation;
Place of origin of goods: СССР
Description: Зверобой Пензенское книжное издательство 1954год Следопыт Пензенское книжное издательство 1955год Последний из Могикан Издательство Лумина Кишинев 1971год Прерия Издательство Детская литература 1975год
Status: отличное
Description of seller: Дополнительные фото высылаю
(Seller: TTMAAR)
Price 850,00 грн.
ORDER FORM
Marked with * is required