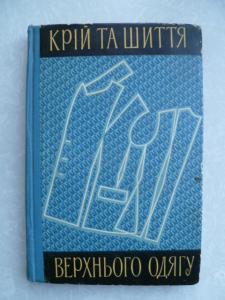 Головніна М., Лозовський Н. Крій та шиття верхнього одягу.  1958 binding type: hardcover.
Category: Book, journal, almanac
Rubric: Fashion, Beauty, Needlework;
Place of origin of goods: Азия
Description: Друге, стереотипне видання. Київ Держтехвидав 1958г. 278 с., іл. Палiтурка / переплет: Картонна, корінець тканинний, збільшений формат. У книзі викладені прості методи побудови малюнків викрійки верхнього одягу, способи розкладки викрійок на тканині, а також пошиття різних виробів.
(Seller: sevost)
Price 40,00 грн.
ORDER FORM
Marked with * is required