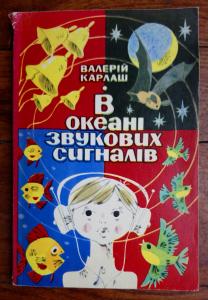 Карлаш Валерій В океані звукових сигналів Київ: Веселка. 1980 144s., binding type: paperback.
Category: Book, journal, almanac
Rubric: Electronics, Electrical, Radio & Communications; Children`s literature: cognitive, teaching, developing;
Place of origin of goods: СССР
Language: Ukrainian
Description: Науково-популярна книжка для середнього та старшого шкільного віку. Художник Юрій Жолудєв. Автор, кандидат фізико-математичних наук, розповідає про звукові явища в природі, про використовування нечутних звуків, про звук у кіно, побутовому звукозапису. Також у книзі є поради, як поліпшити якість звучання побутових радіопристроїв. Містить чорно-білі малюнки та схеми. Наклад 50 000. Формат: 14,5 х 21,5 х 0,8 см.
Status: добрий, невеликий надрив верхньої частини корінця, загнуті куточки
ORDER FORM
Marked with * is required