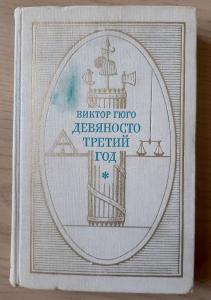 Гюго Виктор Девяносто третий год Москва: Художественная литература. 1972 400s., binding type: hardcover.
Category: Book, journal, almanac
Rubric: Prose of the XIX century in the Russian translation; Historical novels;
Place of origin of goods: СССР
Language: Russian
Description: Останній роман французького письменника Віктора Гюго. Опублікований у 1874 році, через три роки після кривавого перевороту в Паризькій комуні Французької революції, роман стосується повстання у Вандеї та Шуаннері - контрреволюційних заколотів у 1793 році під час Французької революції.
Status: Добрий
ORDER FORM
Marked with * is required