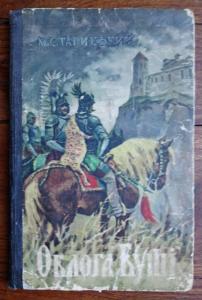 Старицький М. Облога Буші. Історична повість з часів Хмельниччини Київ: Молодь. 1961 96s., binding type: hardcover.
Category: Book, journal, almanac
Rubric: Ukrainistics; Modern History (1640-1918 gg.) ; Historical novels;
Place of origin of goods: СССР
Language: Ukrainian
Description: Історична повість класика української літератури основана на подіях, що відбулися в Буші, прикордонному місті Брацлавського полку, в 1654 році. Наклад 36 000. Художник І. Ф. Манець. Формат: 13 х 20,5 х 0,7 см.
Status: задовільний, плями, надриви, трохи підмальовок та інші сліди користування
ORDER FORM
Marked with * is required