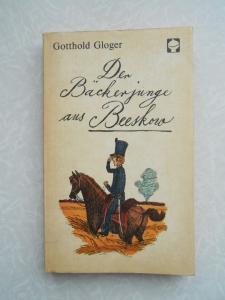 Gotthold Gloger. Der Bäckerjunge aus Beeskow 1974 binding type: hardcover.
Category: Book, journal, almanac
Rubric: Books in other languages;
Place of origin of goods: Азия
Description: Nachdem der Bäckergeselle Riebesam öffentlich ausgepeitscht wurde, verläßt er das ungastliche Beeskow, um anderswo sein Glück zu machen. Von allerlei Abenteuern aufgehalten, reitet er dem preußischen Major von Schill hinterher, der auf eigene Faust losgezogen ist, das Signal zur Erhebung gegen die französische Fremdherrschaft zu geben. Nur durch einen Zufall entgeht Riebesam der Vernichtung, die das Schillsche Regiment ereilt. Fesselnd erzählt Gotthold Gloger der turbulente Geschichte, die sich vor historischen Tatsachen des Jahres 1809 entwickelt. 1974
(Seller: sevost)
Price 40,00 грн.
ORDER FORM
Marked with * is required