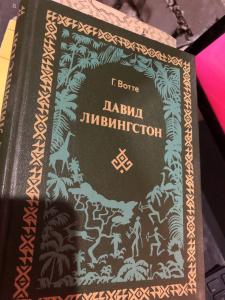 Вотте Герберт Давид Ливингстон: Жизнь исследователя Африки Москва: "Мысль". 1984 270s., binding type: hardcover.
Category: Book, journal, almanac
Rubric: Travel. Geographical discoveries; Geography of Africa: Other countries; Biographies, memoirs, images: Travel, Adventure, Sports.;
Place of origin of goods: СССР
Language: Russian
Description: Документальное описание путешествий Давида Ливингстона по Африканскому континетру, воссозданное на основании документальных свидетельствах, в том числе и самого Ливингстона.
Status: Очень хорошее
ORDER FORM
Marked with * is required