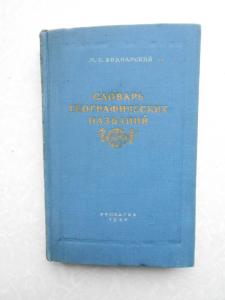 Воднарский М.С. Словарь географических названий 1954 binding type: hardcover.
Category: Book, journal, almanac
Rubric: Dictionaries and reference books, encyclopedias;
Place of origin of goods: Азия
Description: Воднарский М.С. М.С. Воднарский — М.: Государственное учебно-педагогическое издательство Министерства просвящения СССР, 1954 — 368 с. — 100 000 экз. Словарь физико-географических и экономических объектов, встречающихся в учебниках по географии средней школы.
(Seller: sevost)
Price 50,00 грн.
ORDER FORM
Marked with * is required