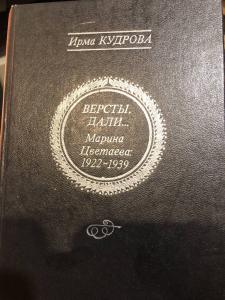 Ирма Кудрова Версты, дали... Марина Цветаева 1922-1939 Москва: Советская Россия. 1991 368s., binding type: hardcover.
Category: Book, journal, almanac
Rubric: Biographies, memoirs, images: Literature; Prose, poetry, drama and other arts of the Silver Age of Russian Culture 1900-1922 years.;
Place of origin of goods: Россия
Language: Russian
Description: Семь глав книги - сеть локальных временных отрезков, рубежных в судьбе Цветаевой 20-30-х годов.Желание увидеть жизнь поэта не извне - хроникой событий, а изнутри - через лейтмотивы личностных проблем и жизненных коллизий. The seven chapters of the book are a network of local time periods, milestones in the fate of Tsvetaeva in the 20-30s. The desire to see the life of the poet not from the outside - a chronicle of events, but from the inside - through the leitmotifs of personal problems and life conflicts.
Status: Очень хорошее. Экслибрис.
Description of seller: Уменьшенный формат.
ORDER FORM
Marked with * is required