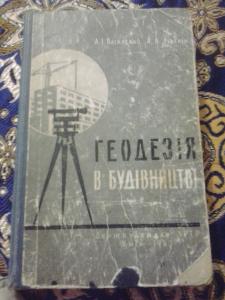 Василенко А., Лукер\'їн А. Геодезія в будівництві Київ: Держбудвидав. 1963 280s., binding type: hardcover.
Category: Book, journal, almanac
Rubric: Architecture, Building;
Place of origin of goods: СССР
Description: В книзі розглянено теоретичні питання основ геодезії та застосування її в будівництві, висвітлено питання вишукування підїзних шляхів до будівельних ділянок
Status: Хорошее.
Description of seller: Пересылаю Укрпочтой, Новой почтой по предоплате на карту Приватбанка, или наложенным платежем. Номер телефона 0678742527, 0934826417 Ел.почта vova.andrushenko.78@mail.ru
ORDER FORM
Marked with * is required