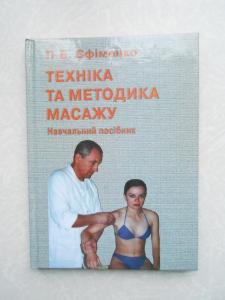 Єфіменко П.Б. Техніка та методика масажу 2001 binding type: hardcover.
Category: Book, journal, almanac
Rubric: Alternative medicine (folk, eastern, healers);
Place of origin of goods: Азия
Description: / Харк. держ. інститут фіз. культури. — Харків: «ОВС», 2001. — 144 с. У навчальному посібнику описані техніка проведення основних та додаткових масажних прийомів, а також методика проведення масажу окремих частин тіла людини з точки зору сеансу загального масажу. Значна увага приділяється спрямованості механічної дії окремих масажних прийомів, що сприятиме більш чіткому диференціюванню структури часткового масажу з урахуванням анатомічної побудови масажованої ділянки тіла. Автором зроблено спробу уніфікувати термінологію щодо назв окремих масажних прийомів. Для зручності користування посібник містить словники: українсько-російський та спеціальних умовних термінів (глосарій). Навчальний посібник розрахований на студентів та викладачів вищих навчальних закладів де викладається масаж, а також для тренерів, реабілітологів, масажистів.
(Seller: sevost)
Price 50,00 грн.
ORDER FORM
Marked with * is required