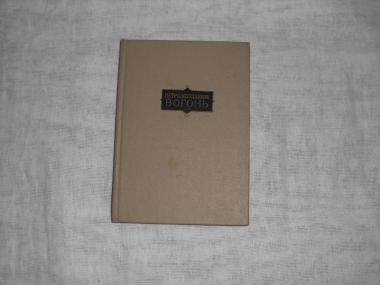 Петро Козланюк Вогонь Львів: Каменяр. 1979 181s., binding type: hardcover.
Category: Book, journal, almanac
Rubric: Ukrainistics; Ukrainian prose of XX-XXI centuries.;
Place of origin of goods: СССР
Description: Збірка присвячена життю населенню Західної України під ярмом іноземних загарбників. Письменник показує боротьбу поневолених масс за соцалшьне і національне визволення та за воззєднання української нації, завдяки чому у 1939 році стали рівноправними громадянинами Країни Рад. Також змальоване життя героїв письменника в умовах радянської дійсності. У збірку увійшли твори: Письма, Легкий заробіток, У лікаря, В селі, Щаслива думка, Сільська поезія, Засуджений, Варіят, Вогонь, В дорозі, Лист, Остання ніч, Весняний шум, На той бік, Незабутні дні, Два життєписи, Сонце над верховиною.
Status: Отличное
ORDER FORM
Marked with * is required