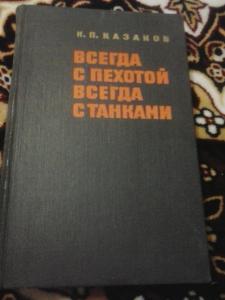 Казаков К. Всегда с пехотой, всегда с танками Москва: Воениздат. 1969 248s., binding type: hardcover.
Category: Book, journal, almanac
Rubric: Biographies, memoirs, pictures: War, Politics, Diplomacy; WW2 The Second World War, 1939-1945.; Red Army / Soviet Army;
Place of origin of goods: СССР
Description: Военно-исторический очерк о боевых действиях артиллерии в крупнейших операциях Великой Отечественной войны.
Status: Хорошее.
Description of seller: Пересылаю Укрпочтой, Новой почтой по предоплате на карту Приватбанка, или наложенным платежем. Номер телефона 0678742527, 0934826417 Ел.почта vova.andrushenko.78@mail.ru
ORDER FORM
Marked with * is required