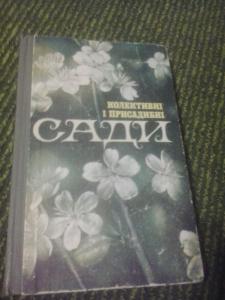 Матвієвський О. Колективні і присадибні сади Київ: Урожай. 1984 320s., binding type: hardcover.
Category: Book, journal, almanac
Rubric: Agriculture; Kitchen Garden, garden, house plants;
Place of origin of goods: СССР
Description: Даються поради по розбивці садової ділянки, підвищенню родючості грунтів, закладанню саду, формуванню, обрізуванню, перещепленню плодових дерев, догляду за ними в молодому і плодоносному віці. Висвітлено особливості вирощування ягідників, а також малопоширених і нових культур (обліпихи, лимонника китайського, аронії чорноплідної, актинідії та ін.). Описано кращі сорти. Рекомендовано засоби і способи боротьби з шкідниками і хворобами саду та ін.
Status: Хорошее.
Description of seller: Пересылаю Укрпочтой, Новой почтой по предоплате на карту Приватбанка, или наложенным платежем. Номер телефона 0678742527, 0934826417 Ел.почта vova.andrushenko.78@mail.ru
ORDER FORM
Marked with * is required