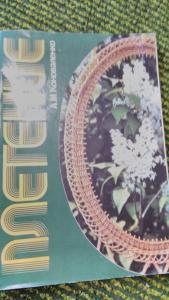 Коноваленко А. Плетение Киев: Реклама. 1987 56s., binding type: paperback.
Category: Book, journal, almanac
Rubric: Fashion, Beauty, Needlework; DIY;
Place of origin of goods: СССР
Description: Самым древним из ремесел, известных человечеству, считается плетение. Археологи утверждают, что оно уходит корнями в эпоху неолита, в каменный век. Ведь такое ремесло не требовало сложных орудий труда.
Status: хорошее
Description of seller: Пересылаю Укрпочтой, Новой почтой по предоплате на карту Приватбанка, или наложенным платежем. Номер телефона 0678742527, 0934826417 Ел.почта vova.andrushenko.78@mail.ru
ORDER FORM
Marked with * is required