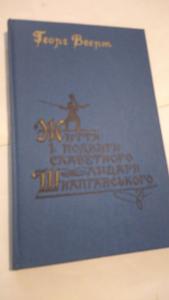 Веерт Г. Життя і подвиги славетного лицаря Шнапганського Київ: Держлітвидав. 1958 214s., binding type: hardcover.
Category: Book, journal, almanac
Rubric: Prose of the XIX century in Ukrainian language; Historical novels; Adventure;
Place of origin of goods: СССР
Language: Ukrainian
Description: (Бібліотека світової класики) Роман німецього поета і письменника Георга Веерта (1822 - 1856) "Життя і подвиги славетного лицаря Шнапганського" став сенсацією. У сатиричному творі безжально висміюється прусське юнкерство. "Шнапганський" - прізвисько, що означає "пройдивіт", "розбійник", "нероба". Воно запозичене з сатиричної поеми Гейне "Атта Тролль", де під цим іменем був змальований князь Ліхновський, прусський юнкер із Сілезії, що прославився своїми скандальними й непристойними пригодами.
Status: Хороший
Description of seller: Пересылаю Укрпочтой, Новой почтой по предоплате на карту Приватбанка, или наложенным платежем. Номер телефона 0678742527, 0934826417 Ел.почта [email protected]
ORDER FORM
Marked with * is required