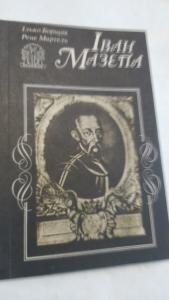 Борщак І., Мартель Р. Іван Мазепа Київ: Свенас. 1991 136s., binding type: paperback.
Category: Book, journal, almanac
Rubric: History of Ukraine; Biographies, memoirs, pictures: War, Politics, Diplomacy;
Place of origin of goods: СССР
Language: Ukrainian
Description: Ілько Борщак (1892 - 1959) - видатний український історик діаспори. Спадщина Борщака налічує близько 400 наукових та публіцистичних праць написаних українською і французькою мовами, серед яких виділяються фундаментальні дослідження історії українських дипломатичних зв`язків з країнами Західної Європи (особливо Франції) XVII-XX столітть.
Status: хорошее
Description of seller: Пересылаю Укрпочтой, Новой почтой по предоплате на карту Приватбанка, или наложенным платежем. Номер телефона 0678742527, 0934826417 Ел.почта vova.andrushenko.78@mail.ru
ORDER FORM
Marked with * is required