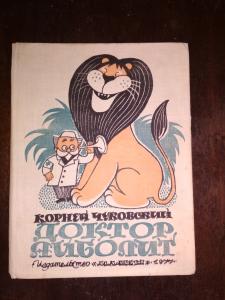 Корней Чуковский Доктор Айболит /по Гью Лвтингу/ Москва: Малыш. 1977 116s., binding type: hardcover.
Category: Book, journal, almanac
Rubric: Children`s Literature: Stories, poems and fables; Children`s Books: Illustrated Books for Kids;
Place of origin of goods: СССР
Language: Russian
Description: книга о приключениях доброго доктора Айболита,который лечил животных.
Status: близко к хорошему. незначительное загрязнение обложки и трещины после и до форзацев
Description of seller: книга красочно иллюстрирована художником В.Чижиковым.
(Seller: valeri)
Price 1 400,00 грн.
ORDER FORM
Marked with * is required