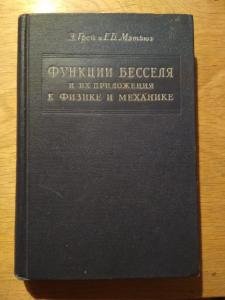 Э. Грей и Г.Б. Мэтьюз Функции Бесселя и их приложения к физике и механике Москва: иностранная литература. 1949 386s., binding type: hardcover.
Category: Book, journal, almanac
Rubric: Physics; Mathematics; Textbooks and manuals for students;
Place of origin of goods: СССР
Language: Russian
Description: Ввиду применения функций Бесселя /цилиндрических функций\ к задачам математической физики и механики при значительно меньшем объеме можно использовать книгу Грея и Метьюза.
Status: хорошее,но вырван титульный лист несколько надписей карандашом.
Description of seller: книга переведена с английского
(Seller: valeri)
Price 150,00 грн.
ORDER FORM
Marked with * is required