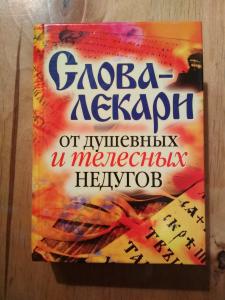 Составитель В.Н. Куликова Слова-лекари от душевных и телесных недугов Москва: Рипол классик. 2010 574s., binding type: hardcover.
Category: Book, journal, almanac
Rubric: Religion: magic, occultism, astrology; Alternative medicine (folk, eastern, healers);
Place of origin of goods: Азия
Language: Russian
Description: В этой книге собраны тексты заговоров из копилки народной мудрости и молитвы,к которым с давних времен прибегали страждущие и отчаявшиеся.
Status: очень хорошее
Description of seller: Книга уменьшенного формата
(Seller: valeri)
Price 100,00 грн.
ORDER FORM
Marked with * is required