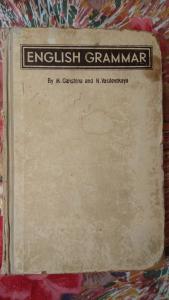 ганшина м. английская грамматика (english grammar) москва. 1953 472s., binding type: hardcover.
Category: Book, journal, almanac
Rubric: Textbooks and tutorials for various languages;
Place of origin of goods: СССР
Language: English, Russian
Description: Настоящий учебник "English Grammar for Pedagogical Institutes" является курсом английской грамматики для педагогических языковых институтов и для факультетов иностранных языков педагогических вузов. Учебник составлен в соответствии с программой, утвержденной Министерством высшего образования СССР. При переработке учебника для 7-го издания авторы руководствовались основополагающими работами И.В. Сталина по вопросам языкознания. 7-ое издание является расширенным по сравнению с предыдущим и в теоретической части, и в разделе упражнений.
Status: обложка на фото.в средине очень хорошее
(Seller: natik)
Price 170,00 грн.
ORDER FORM
Marked with * is required