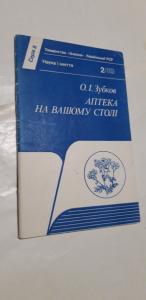 Зубков О. Аптека на вашому столі Київ: Знання. 1989 64s., binding type: paperback.
Category: Book, journal, almanac
Rubric: Alternative medicine (folk, eastern, healers);
Place of origin of goods: СССР
Language: Ukrainian
Description: Розповідається про значення лікарських рослин, які поповнюють продукти нашого харчування. Даються практичні поради щодо вмілого і раціонального використання рослин, висвітлюється їх роль в охороні здоровя людини. Розрахована на медичних працівників, любителів природи, широке коло читачів.
Status: хорошее
Description of seller: Пересылаю Укрпочтой, Новой почтой по предоплате на карту Приватбанка, или наложенным платежем. Номер телефона 0678742527, 0934826417 Ел.почта vova.andrushenko.78@mail.ru
ORDER FORM
Marked with * is required