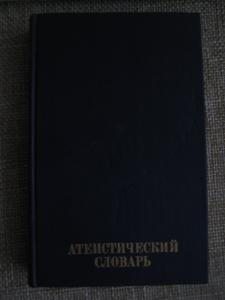 Абдусамедов А. И., Алейник Р. М., Алиева Б. А Атеистический словарь Политиздат. 1985 binding type: hardcover.
Category: Book, journal, almanac
Rubric: Religion: Religious Studies, History of Religion, atheism; Dictionaries and reference books, encyclopedias;
Place of origin of goods: СССР
Language: Russian
Description: Словарь рассчитан на пропагандистов, лекторов, преподавателей и студентов вузов, всех интересующихся атеистической проблематикой.
Status: отличное
ORDER FORM
Marked with * is required