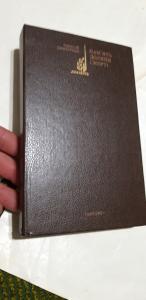 Дмитренко О. Пам'ять Долини смерті Київ: Дніпро. 1987 630s., binding type: hardcover.
Category: Book, journal, almanac
Rubric: Ukrainian prose of XX-XXI centuries.; Historical novels; WW2 The Second World War, 1939-1945.;
Place of origin of goods: СССР
Description: Майже два місяці стояли на смерть радннські солдати, утримуючи відкритий, мов на долоні, дніпровий плацдарм під крутими, неприступними кручами на півдсиь від Кременчука — серед живих залишилися одиниці... Схвильовано розповідає відомий український радянський письменник, лауреат Державної премії Української РСР імені Т. Г Шевченка про цей подвиг на Дніпрі, в Долині смерті, між трьома селами Успенка, Дереївка, Чикалівка... Багаторічний пошук дав змогу автору воскресити немало імен героїв оборони (1941), а потім форсування (1943) Славути, художньо докумснталізувати складні сторінки війни.
Status: хорошее
Description of seller: Пересылаю Укрпочтой, Новой почтой по предоплате на карту Приватбанка, или наложенным платежем. Номер телефона 0678742527, 0934826417 Ел.почта vova.andrushenko.78@mail.ru
ORDER FORM
Marked with * is required