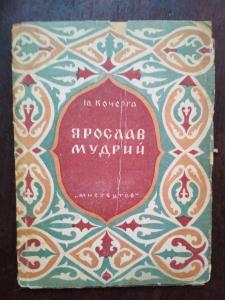 Ів. Кочерга Ярослав Мудрий /драматична поема/ Харків: Мистецтво. 1947 132s., binding type: hardcover.
Category: Book, journal, almanac
Rubric: Ukrainistics; Medieval History (476-1640 gg.); Dramaturgy;
Place of origin of goods: СССР
Language: Ukrainian
Description: З довгого політичного життя Ярослава автор взяв невеликий порівняно відтинок - з 1030 по 1036 рік,тобто ті роки,коли Ярослав після довгої боротьби з Святополком,Болеславом,Брячиславом і Мстиславом,"витер пота"і взявся до наряду об"єднаної під владою руської землі цей період завершився блискучою перемогою над печенізькими ордами і остаточним розгромом їх під Києвом.
Status: блище до гарного. Є несначни дефекти. Єбібліотечна пе- чатка
(Seller: valeri)
Price 100,00 грн.
ORDER FORM
Marked with * is required