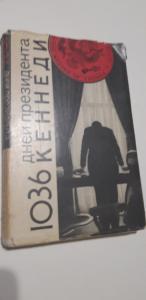 Громыко А. 1036 дней президента Кеннеди Москва: Издательство политической литературы. 1969 280s., binding type: hardcover.
Category: Book, journal, almanac
Rubric: Biographies, memoirs, pictures: War, Politics, Diplomacy;
Place of origin of goods: СССР
Language: Russian
Description: Книга посвящена внешней политике правительства Кеннеди; вместе с тем автор рисует картину сложной и противоречивой политической жизни Америки 60-х годов, показывает, как и кем формируется внешнеполитический курс США, анализирует причины роста агрессивности и авантюризма.
Status: хорошее
Description of seller: Пересылаю Укрпочтой, Новой почтой по предоплате на карту Приватбанка, или наложенным платежем. Номер телефона 0678742527, 0934826417 Ел.почта vova.andrushenko.78@mail.ru
ORDER FORM
Marked with * is required