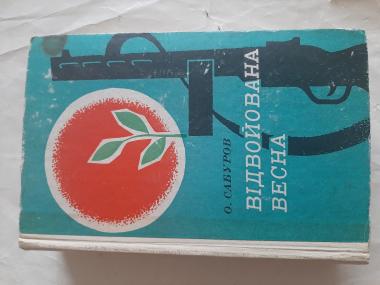 Сабуров О. Відвойована весна Київ: Политиздат. 1972 736s., binding type: hardcover.
Category: Book, journal, almanac
Rubric: Biographies, memoirs, pictures: War, Politics, Diplomacy; Other technical research and production; WW2 The Second World War, 1939-1945.;
Place of origin of goods: СССР
Language: Ukrainian
Description: В годы Великой Отечественной войны А. Н. Сабуров командовал партизанским соединением, которое по заданию Центрального Комитета партии осуществило рейд из Брянских лесов на Правобережную Украину.
Status: Хорошее
Description of seller: Пересылаю Укрпочтой, Новой почтой по предоплате на карту Приватбанка, или наложенным платежем. Номер телефона 0678742527, 0934826417 Ел.почта vova.andrushenko.78@mail.ru
ORDER FORM
Marked with * is required