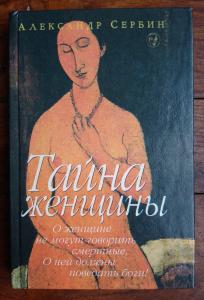 Сербин А. Н. Тайна женщины Киев: Femina. 1996 288s., binding type: hardcover.
Category: Book, journal, almanac
Rubric: Anthropology, ethnography, mythology, folklore; History of Ancient Greece and Rome; Romance novels and works of other genres of love;
Place of origin of goods: Украина
Language: Russian
Description: В легкой беллетризованной форме, опираясь на легенды и мифы Древней Греции, но давая свою художественную версию событий, автор повествует о "тайне" женщины, о женских судьбах, характерах, поступках. Формат: 13,5 х 20,5 х 1,5 см.
Status: очень хорошее
ORDER FORM
Marked with * is required