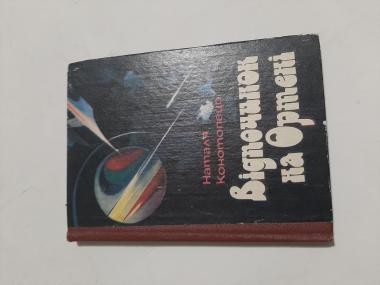 Конотопець Н. Відпочинок на Ортені Київ: Радянський письменник. 1984 183s., binding type: hardcover.
Category: Book, journal, almanac
Rubric: Fantasy, utopian and dystopian fiction;
Place of origin of goods: СССР
Language: Ukrainian
Description: У фантастичних повісті й оповіданнях сучасної української письменниці піднімаються теми «космічні» й земні. Але в центрі уваги завжди залишається людина з її неоднозначним відчуттям і сприйняттям чужих світів і, в зв'язку з ними, - власного «я». Герої творів мандрують у міжзоряних просторах, вступають в контакт з цивілізаціями різного рівня розвитку, але душею й серцем завжди прив'язані до Землі, до її складних соціальних і моральних проблем.
Status: хорошее
Description of seller: Пересылаю Укрпочтой, Новой почтой по предоплате на карту Приватбанка, или наложенным платежем. Номер телефона 0678742527, 0934826417 Ел.почта [email protected]
ORDER FORM
Marked with * is required