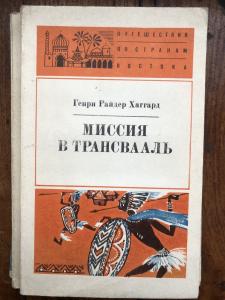 Хаггард Генри Райдер Миссия в Трансвааль Москва: "Наука" Главная редакция восточной литературы. 1974 236s., binding type: paperback.
Category: Book, journal, almanac
Rubric: Religion: Other Religions and Cults; Geography of Africa: Other countries; Biographies, memoirs, images: Travel, Adventure, Sports.;
Place of origin of goods: СССР
Language: Russian
Description: Описание английским писателем Хаггардом Южную Африку в конце XIX начале XX века, которую он хорошо изучил, долгое время проживая там.
Status: Хорошее
ORDER FORM
Marked with * is required