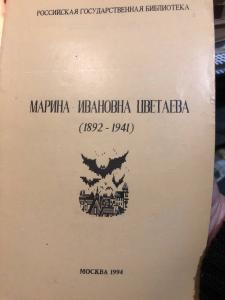 Марина Ивановна Цветаева(1892-1941). Библиографический очерк. (Marina Ivanovna Tsvetaeva (1892-1941). Bibliographic essay.) Москва: Российская государственная библиотека. 1994 30s., binding type: paperback.
Category: Book, journal, almanac
Rubric: Biographies, memoirs, images: Literature; Prose, poetry, drama and other arts of the Silver Age of Russian Culture 1900-1922 years.;
Place of origin of goods: Россия
Language: Russian
Description: Одна из первых биографических книг, посвященных Марине Цветаевой на постсоветском пространстве. Содержит краткий обзор судьбы поэта, библиографию ее прижизненных и современных изданий, перечень литературы. One of the first biographical books dedicated to Marina Tsvetaeva in the post-Soviet space. Contains a brief overview of the poet's fate, a bibliography of her lifetime and contemporary editions, a list of references.
Status: Очень хорошее. Экслибрис, номер домашней библиотеки.
ORDER FORM
Marked with * is required