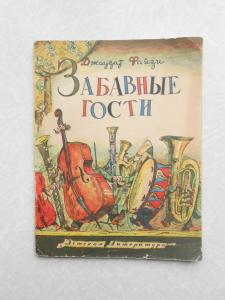 Файзи Джаудат. Забавные гости. 1968 binding type: hardcover.
Category: Book, journal, almanac
Rubric: Children`s Literature: Stories, poems and fables;
Place of origin of goods: Азия
Description: Сказка о музыкальных инструментах. Рис. И. Кабакова. Перевел с татарского Ю. Полухин. М. Детская литература 1968г. 32 с., илл. мягкий переплет, увеличенный формат.
(Seller: sevost)
Price 70,00 грн.
ORDER FORM
Marked with * is required