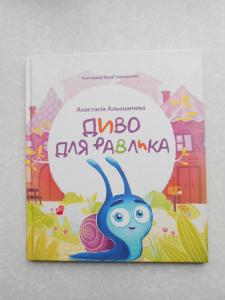 Анастасія Альошичева Диво для равлика 2018 binding type: hardcover.
Category: Book, journal, almanac
Rubric: Children`s Literature: Stories, poems and fables;
Place of origin of goods: Азия
Description: Бешкетні їжаченята Мері й Дорі нарешті пішли до школи. І саме зараз їхні батьки несподівано мають їхати у відрядження. З малятами залишається друг, який вже став частиною родини їжаків, - лісовий герой Равлик. Що тут почалося... Нові друзі, цікаві уроки та незвичні розваги занурюють їжаченят у несамовитий вир пригод. І цей вир стане суворим випробуванням для їхньої дружби з таким рідним, але таким дивакуватим Равликом... А тут іще наближається головне шкільне свято - День сім'ї. Чи зможуть малята довести, що саме їхня родина є найміцнішою? І яке диво приготувала доля для самого Равлика?2018 р.
(Seller: sevost)
Price 40,00 грн.
ORDER FORM
Marked with * is required