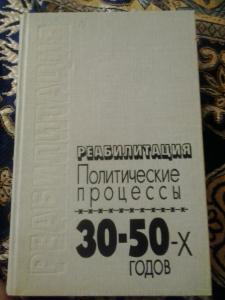 Реабилитация. Политические процесы 30-50-х годов Москва: Политиздат. 1983 304s., binding type: hardcover.
Category: Book, journal, almanac
Rubric: History of the USSR; Biographies, memoirs, pictures: War, Politics, Diplomacy;
Place of origin of goods: СССР
Description: Настоящий сборник о репрессиях периода культа личности. В нем на основе архивных документов показано, как фабриковались \"дела\" для проведения политических процессов и прочие документы.
Status: Нет титула (см.фото). Штамп
Description of seller: Пересылаю Укрпочтой, Новой почтой по предоплате на карту Приватбанка, или наложенным платежем. Номер телефона 0678742527, 0934826417 Ел.почта vova.andrushenko.78@mail.ru
ORDER FORM
Marked with * is required