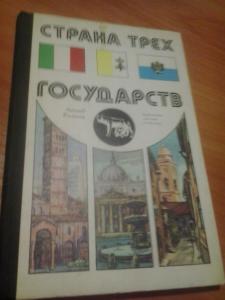 Колосов Л. Страна трех государств Москва: Детская литература. 1982 96s., binding type: hardcover.
Category: Book, journal, almanac
Rubric: History of other states and nations; Geography of Europe: Italy, Spain, Portugal, France; Children`s literature: cognitive, teaching, developing;
Place of origin of goods: СССР
Description: На территории Апеннинского полуострова находятся три государства: Итальянская Республика, Ватикан и Республика Сан-Марино. О проблемах, связанных с этими государствами, рассказывает эта книга. Фотоиллюстрации на отдельных листах.
Status: Хорошее
Description of seller: Пересылаю Укрпочтой, Новой почтой по предоплате на карту Приватбанка, или наложенным платежем.
ORDER FORM
Marked with * is required