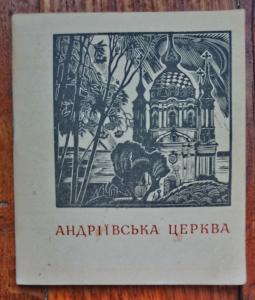 Мироненко О. К. Андріївська церква (Пам'ятка архітектури XVIII ст.) Київ: Будівельник. 1970 76s., binding type: paperback.
Category: Book, journal, almanac
Rubric: Ukrainistics; Religion: Christianity; Architecture, Building;
Place of origin of goods: СССР
Language: Ukrainian
Description: Брошура розрахована на архітекторів, стане у пригоді і більш широкому колу читачів. У ній йдеться про історію виникнення рідкісної споруди архітектури XVIII ст. - Андріївської церкви в Києві. Дана характеристика живопису та різьблення, приділена увага реставраційним заходам. Чорно-білі ілюстрації в тексті. Наклад 20 000. Формат зменшений: 11 х 13 см.
Status: добрий, незначне забруднення обкладинки, трохи прим'ті сторінки
ORDER FORM
Marked with * is required