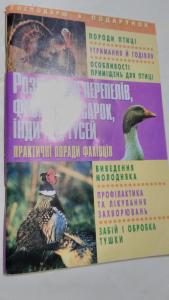 Розведення перепелів, фазанів, цесарок, індичок, гусей Донецк: Бао. 2005 112s., binding type: paperback.
Category: Book, journal, almanac
Rubric: Agriculture; Animals (wild and domestic);
Place of origin of goods: Украина
Language: Russian
Description: На подвір`ях птахівників-любителів усе частіше з`являються рідкі види свійської птиці. Особливої популярності набули перепели, фазани та цесарки. Розведення цих птиць високоефективне з господарського погляду. Книга містить рекомендації щодо розведення перепелів, фазанів, цесарок, гусей, а також найбільшої свійської птиці - індичок.
Status: хорошее
Description of seller: Пересылаю Укрпочтой, Новой почтой по предоплате на карту Приватбанка, или наложенным платежем. Номер телефона 0678742527, 0934826417 Ел.почта vova.andrushenko.78@mail.ru
ORDER FORM
Marked with * is required