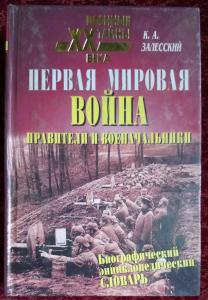 Залесский К. А. Первая мировая война. Биографический энциклопедический словарь Москва: Вече. 2000 576s., binding type: hardcover.
Category: Book, journal, almanac
Rubric: Military history; Biographies, memoirs, pictures: War, Politics, Diplomacy; WW1 World War 1914-1918.;
Place of origin of goods: Россия
Language: Russian
Description: Серия "Военные тайны XX века". В книге собрано более 300 биографий крупнейших военачальников Первой мировой войны 1914-1918 гг. 16 страниц с черно-белыми фотоиллюстрациями.
Status: отличное
ORDER FORM
Marked with * is required