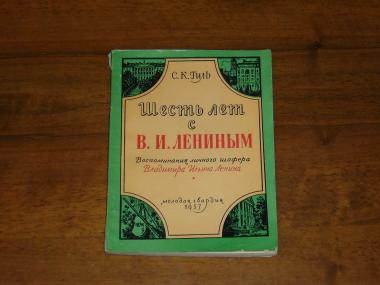 С.К. Гиль Шесть лет с В.И. Лениным. Воспоминания личного шофера Владимира Ильича Ленина Москва: Молодая Гвардия. 1957 104s., binding type: paperback.
Category: Book, journal, almanac
Rubric: Biographies, memoirs, pictures: War, Politics, Diplomacy; Biographies, memoirs, images: popular movements, plots, riots, revolutions, Revolution.; Political movements and parties;
Place of origin of goods: СССР
Language: Russian
Description: С.К.Гиль в течение шести лет имел возможность общения с Лениным . Хотя С.К.Гилю по его профессиональным обязанностям приходилось наблюдать В. Ленина главным образом во время его отдыха, но отдых Ленина был всегда активным.
Status: Очень хорошее
Description of seller: Формат - 70x108/32
(Seller: mss)
Price 89,00 грн.
ORDER FORM
Marked with * is required