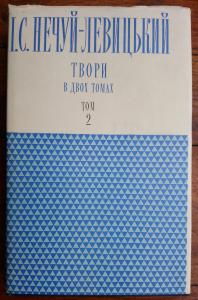 Нечуй-Левицький І. С. Твори в двох томах. Том 2. Київ: Дніпро. 1977 504s., binding type: hardcover.
Category: Book, journal, almanac
Rubric: Individual volumes of multivolume editions; Ukrainistics; Ukrainian prose to the XX century.;
Place of origin of goods: СССР
Language: Ukrainian
Description: До другого тому входять повісті, оповідання, нариси, легенди: "Старосвітські батюшки та матушки", "Афонський пройдисвіт", "Скривджені й нескривджені. Легенда індуська", "Київські прохачі", "Вечір на Владимирській горі", "Сільська старшина бенкетує!". 2 вклейки з чорно-білими фотоілюстраціями. Суперобкладинка. Формат: 13,5 х 20,5 х 3 см.
Status: дуже добрий, незначне забруднення обрізів, хвилястість країв деяких аркушів, суперобкладинка трохи прим'ята по верхньому краю
ORDER FORM
Marked with * is required