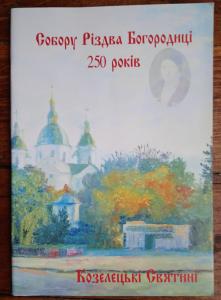 Козелецькі Святині: Собору Різдва Богородиці 250 років 2013 40s., binding type: paperback.
Category: Book, journal, almanac
Rubric: Ukrainistics; Regional studies of the Central Ukraine; Religion: Christianity;
Place of origin of goods: Украина
Language: Ukrainian
Description: Матеріали та фото для друку зібрав прихожанин собору Різдва Богородиці Сергій Панасюк. Зміст: Народжені щоб жити вічно. Сім'я Розумовських та собор оповитий легендами. Дзвіниця собору Різдва Богородиці. Свято-Миколаївська церква. Вознесенська церква. Церква Святого Миколая на Київській Слобідці. Церква Преображення Господнього. Книга видана на крейдованому папері та проілюстрована кольоровими фотографіями. Формат: 14,5 х 21 см.
Status: гарний
ORDER FORM
Marked with * is required