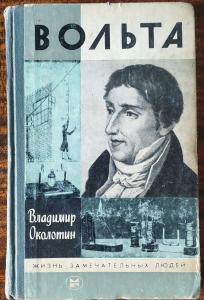 Околотин В. С. Вольта Москва: Молодая гвардия. 1986 320s., binding type: hardcover.
Category: Book, journal, almanac
Rubric: Lots of great people (Lives of Outstanding People Series); Biographies, memoirs, images: Science; Physics;
Place of origin of goods: СССР
Language: Russian
Description: Про життя і наукову творчість італійського фізика Алєссандро Вольта
Status: Обкладинка має сліди використання. Сторінковий блок не розпадається.
(Seller: retry)
Price 50,00 грн.
ORDER FORM
Marked with * is required