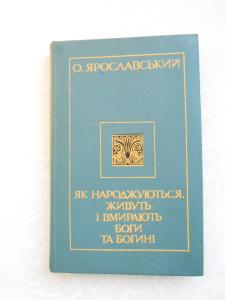 Ярославський, О. Як народжуються, живуть і вмирають боги та богині 1983 binding type: hardcover.
Category: Book, journal, almanac
Rubric: Religion: Religious Studies, History of Religion, atheism;
Place of origin of goods: Азия
Description: У книзі переконливо, на яскравих фактах з порівняльної історії релігії показується, що боГн е творінням людини, наслідком придавленості її на певному етапі розвитку людського суспільства спочатку грізними силами природи, а пізніше — класовим гнітом, що прообразом Ісуса Христа послужили численні, поширені в різних частинах колишньої Римської імперії та за ТІ межами, культя вмираючих і воскресаючих богів, богів-спасителів.1983.
(Seller: sevost)
Price 50,00 грн.
ORDER FORM
Marked with * is required