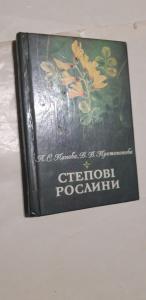 Панова Л., Протопопова В. Степові рослини Київ: Радянська школа. 1983 190s., binding type: hardcover.
Category: Book, journal, almanac
Rubric: Biological sciences; Alternative medicine (folk, eastern, healers);
Place of origin of goods: СССР
Language: Russian
Description: 100 наименований! К каждой траве даётся описание и цветная иллюстрация. Уменьшенный формат – 9 х 13 см.
Status: хорошее
Description of seller: Пересылаю Укрпочтой, Новой почтой по предоплате на карту Приватбанка, или наложенным платежем. Номер телефона 0678742527, 0934826417 Ел.почта vova.andrushenko.78@mail.ru
ORDER FORM
Marked with * is required