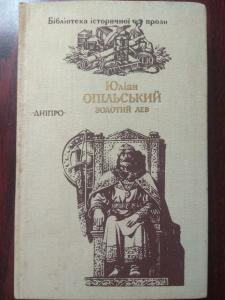 Опільський Юліан Золотий Лев Киев: Дніпро. 1989 414s., binding type: hardcover.
Category: Book, journal, almanac
Rubric: Modern History (1640-1918 gg.) ; Ukrainian prose of XX-XXI centuries.;
Place of origin of goods: СССР
Language: Ukrainian
Status: хорошее
Description of seller: Перший історичний твір письменника «Іду на вас» надруковано в 1918 році. Автор звернувся в ньому до епохи Київської Русі, до часів держави, іцо зачинала історію трьох братніх народів: росіян, українців, білорусів,— і обрав сюжетом останній похід князя Святослава та його загибель. У книжку вміщено також повісті «Ідоли падуть» — про часи князя Володимира й запровадження християнства на Русі та «Золотий Лев» — про княжіння Данила Галицького. Твори приваблюють яскравими й динамічними сценами побуту, колоритними картинами раннього середньовіччя,задушевно-ліричними інтонаціями в описі інтимних почуттів героїв. Та основне в повістях — осудження війн і загарбництва, інтерес до життя народу.
(Seller: Olenka)
Price 25,00 грн.
ORDER FORM
Marked with * is required