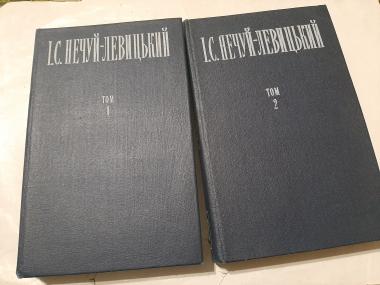 Нечуй-Левицький І. Твори в двох томах Київ: Дніпро. 1977 1020s., binding type: hardcover.
Category: Book, journal, almanac
Rubric: Ukrainian prose to the XX century.; Multi-volume edition of collected works;
Place of origin of goods: СССР
Language: Ukrainian
Description: Іван Семенович Нечуй-Левицький (1838-1918) — український прозаїк, перекладач, письменник. Друкуватися почав 1868 року. Автор антикріпосницької повісті «Микола Джеря» (1876 року), повістей. Нечую-Левицькому належать гумористично-сатиричні твори «Кайдашева сімя» (1879 року), «Старосвітські батюшки та матушки» (1881 року) та ін. Виступав і як драматург (комедія «На кожумяках»), етнограф-фольклорист та лінгвіст, тощо. Зміст тому: Повісті та оповідання: `Бурлачка`. `Кайдашева сімя`. `Старосвітські батюшки та матушки`. `Скривджені й нескривджені`. `Афонський пройдисвіт`.
Status: хорошее
Description of seller: Пересылаю Укрпочтой, Новой почтой по предоплате на карту Приватбанка, или наложенным платежем. Номер телефона 0678742527, 0934826417 Ел.почта vova.andrushenko.78@mail.ru
ORDER FORM
Marked with * is required