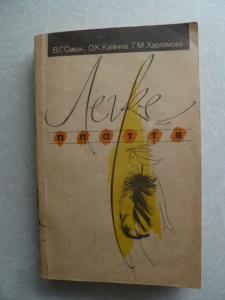 Сивак В., Калініна О., Харламова Г. Легке плаття. 1992 binding type: hardcover.
Category: Book, journal, almanac
Rubric: Fashion, Beauty, Needlework;
Place of origin of goods: Азия
Description: / Легкое платье. Друге видання. Київ Час 1992г. 336 с., іл. Мяка звичайний формат Практичний довідковий посібник містить рекомендації до технології виготовлення жіночого легкого плаття. Викладено способи побудови креслень легких суконь, які дозволяють точно та економно кроїти вироби різноманітних фасонів. Викладено перелік можливих дефектів, причини їх виникнення та методи усунення. Видання ілюстроване кресленнями, малюнками.
(Seller: sevost)
Price 45,00 грн.
ORDER FORM
Marked with * is required